2022-2023 Integrated Report: Edenred goes Beyond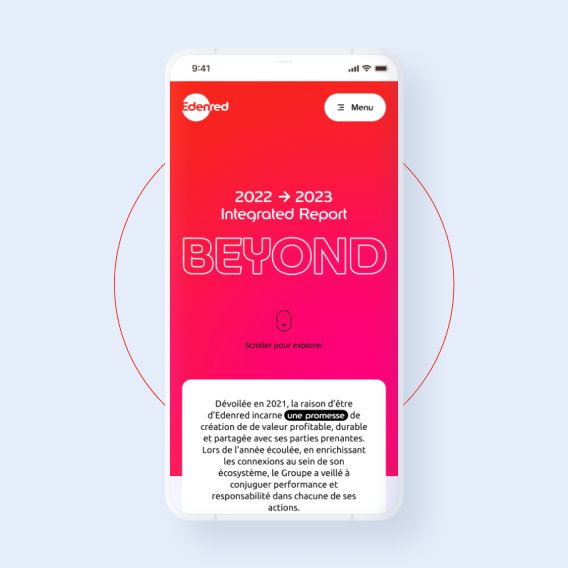 Edenred's 6th Integrated Report is once again taking the shape of a fully digital, eco-designed and accessible publication.
Last October, Edenred launched its new strategic plan for the period 2022-2025: Beyond. This ambitious acceleration opens a new phase of growth for the Edenred Group, of which the Integrated Report provides many illustrations around three main chapters:
A world Beyond puts the Edenred Group's model for value creation into perspective with the major global trends and the current economic climate, marked by issues related to inflation and purchasing power.
Seeing Beyond shows how Edenred prepares for the future: strategy and commitments, technology and innovation in its three business lines (Employee Benefits, Mobility and Corporate Payment).
Beyond performance illustrates, beyond the figures, the commitment of Edenred's teams and governance to profitable and sustainable growth.
Each chapter is introduced by an exclusive video presentation by Bertrand Dumazy, Chairman & Chief Executive Officer of Edenred.
🔴 Discover the 2022-2023 Integrated Report
The Edenred 2023 Essential
A companion publication to the Integrated Report, The Essential helps you get to know and understand Edenred better in a few minutes: Group profile, specific-purpose payments, digital solutions, responsible commitments, employer promise – all of Edenred at a glance!